DT Systems RDL 1209 Super-Pro Remote Dummy Launcher Set 6-Shooter
Simplify training your dog for multiple retrieves, blind retrieves and field trials.
Temporarily backordered with the manufacturer. The manufacturer does not have a set arrival date at this time. We will update our webpage once we are given a tentative arrival date. We apologize for the inconvenience.
No risk to you. Your 100% Satisfaction is Guaranteed with our 30 Day "No Questions" Money Back Guarantee. Hassle-free returns & exchanges.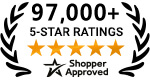 Loads and Batteries NOT included.

Includes 6 Super Pro Remote Launchers, 6 DT Canvas Dummies, 6 Remote Receivers, and 1 Handheld Transmitter.

The DT Systems Super Pro Remote Dummy Launcher combines their Super-Pro hand held dummy launcher with a small, compact, portable, and lightweight remote launching system, letting you launch dummies from a remote location from up to 1,200 yards away. The remote release system can control up to 16 launchers (sold separately) with one hand held transmitter to aid in setting up blind retrieves, multiple retrieves, or setting a course for hunt tests or field trials.

The lightweight aluminum frame and compact folding design aid in portability for ease of use in the field. The remote unit features a red blinking on/off LED indicator light and a locator / beeper to aid in finding a unit in the field or to help as a training aid. Uses the same .22 caliber crimped blank loads as the Super-Pro handheld launchers.

Features:


1200 yard signal reception range
Easily adjust launch angle from 0-75 degrees
Weighs less than 7 lbs.
Dual-Port Exhaust for increased range and reduced recoil
Solid aluminum and stainless steel construction
Self contained firing pin mechanism for long life
Up to 16 launchers programmable to one transmitter
Cross-compatibility with D.T. Systems Remote Bird Launchers
Uses existing patented D.T. Systems Super Pro Dummy Launcher base unit
Safe-T-Ratchet cocking mechanism to prevent misfires while cocking
Transmitter and receiver unit use replaceable 9v batteries
Audible beeper on launcher to aid in locating / marking unit
Convenient shell loading and extraction system

NOTE: Red power loads can be used with the Super-Pro Dummy Launcher. However, DT Systems recommends the green or yellow loads for this launcher as the red loads can shorten the life of the launcher dummies.

The DT Feather-Weight Launcher Dummy is wrapped in 1000 denier nylon Cordura fabric. Specially coated, the fabric repels water, resists mold growth, gives longer life and has excellent scent-holding qualities.

NOTE: When training on water, make sure the launch tube in each dummy is dry before re-launching. If water is in the launch tube when the dummy is placed on the launcher, it can enter the firing port, drowning the load and causing a misfire. We recommend having multiple dummies available so the wet ones can dry between launches.

For Your Safety:


Use only .22 caliber crimped blank loads. Not for use with loads with wadded ends.
Each time before firing the launcher, make sure bore is free from obstruction. Clean after firing.
WEAR PROPER HEARING PROTECTION. Repeated exposure to gunfire or dummy launcher firing can damage hearing.
WEAR SHOOTING GLASSES TO PROTECT EYES.
Always keep your dummy launcher pointed in a safe direction.
FOR OUTDOOR USE ONLY!


Country of Origin: Made in Korea.








DT Systems
400000006114