Zinger Winger Field Trialer G4 Remote Ready Dummy Launcher -- SHIPS FREE (US48)
The highest arc and the farthest throw of any remote winger on the market.
Temporarily sold out of "BK| Black (+$20)". Expected to be back in stock by late April, 2018.
No risk to you. Your 100% Satisfaction is Guaranteed with our 30 Day "No Questions" Money Back Guarantee. Hassle-free returns & exchanges.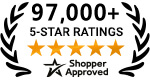 Choose Silver or add $20 for Black Powder Coat finish.

"Nothing Throws Like a Zinger Winger!" - The Zinger Winger has the highest arc and the farthest throw of any remote winger on the market. In fact, its versatility allows the user to choose direction, arc, height and distance of throw quickly and easily. Perfect for those customized training drills. Field trialers will enjoy the consistent height and placement that simulates a hand thrown mallard. Hunt testers who seek long high arcs will be amazed at the precise long throw using the wingers' maximum setting.

The G4 model features a black powder coated frame, servo actuated release mechanism and heavier rubbers for better throws. Perfect for hunt test or field trial training. It features our exclusive servo actuated Multi-Shot Sound release mechanism which fires 209, .22 and .32 caliber blanks. This state of the art release is housed in a sound chamber to amplify the shot sound necessary for long distance mark training.

The "short setting" will throw a pigeon or bumper 25 yards and a duck 15 yards. The "long setting" will launch a pigeon or bumper over 40 yards and a duck 25 yards.

Arc & Throw - Nothing Throws Like a Zinger Winger! The Zinger Winger has the highest arc and the farthest throw of any remote winger on the market. In fact, its versatility allows the user to choose direction, arc, height and distance of throw quickly and easily. Perfect for those customized training drills. Field trailers will enjoy the consistent height and placement that simulates a hand thrown mallard. Hunt testers who seek long high arcs will be amazed at the precise long throw using the wingers' maximum setting.

"The "short setting" will throw a pigeon or bumper 25 yards and a duck 15 yards. The "long setting" will launch a pigeon or bumper over 40 yards and a duck 25 yards.

Operation / User Friendly Set-Up - Whether you are a pro or amateur, the last thing you want to be doing is wasting valuable training time with equipment that's difficult to use. That's why the Zinger Winger to be an extremely user-friendly training tool. With two quick steps the winger is set up and ready to use. No tools or assembly is required to set up the Zinger Winger.

Freestanding - The Zinger Winger is a true freestanding bird launcher. Its unique shape and design provides maximum stability without the need to stake it down. This allows you to train on all types of terrain (soft, hard, rocky, and frozen). You'll spend more time training dogs rather than wasting valuable time pulling and driving stakes every instance you need to modify your training drills. There is no need to carry heavy hammers and tie-down stakes to secure the winger.

Fool-Proof Release - The Zinger Winger Company uses a "state of the art" release mechanism that is enclosed and protected between 1/4" aluminum plates to shield it from the abuse it will receive in the field. The dependability and protection of this release is unsurpassed and guarantess the release of the bird everytime.

The remote receiver mounts 4 feet off the ground to greatly improve transmitter reception in all types of terrain. This eliminates problems common to other remote launchers where the receiver is mounted at ground level. The Zinger Winger can also be operated manually using a pull cord and quick snap.

Built-In Shot Sound - A self-contained firing mechanism eliminates the need for shotguns or starter pistols in the field. The 209-shotshell primer is simply inserted into the release mechanism and fires the moment the launcher is triggered. Precise timing is ensured between the shot sound and the release of the bird allowing the dogs attention to be drawn towards the launcher and the flight of the bird.

Size and Weight - Modern day retriever training means having to transport and store more gear than ever before so Zinger Wingers were designed with your weight and storage needs in mind. Each "Field Trialer" is constructed from lightweight aluminum tubing and will fit into shortbox pickups and breezeways of dog trailers. They fold flat and weight 15 pounds. Measurements: 1 1/2" x 25" x 65".

This Zinger Winger Launcher is Remote Ready, meaning it is ready to accept your electronic release system. To operate as a remote launcher you will need a Garmin Pro Control 2, Dogtra Remote Release System, or SportDOG Remote Launcher System. To operate as a manual launcher simply attach a heavy cord or light rope.

Warranty and Guarantee - Each Zinger Winger is constructed from strong aluminum tubing, heavy-duty rivets and stainless fittings. Use it for 30 days after which time you may return it for a full refund if you are not satisfied. Every Zinger Winger is tested in true field conditions, carefully packaged and shipped fully assembled and ready to use. Zinger Winger's commitment to you extends throughout the life of the product with a lifetime warranty on parts and workmanship (excluding rubber).




Zinger Winger
400000001455