Curing Your Dog's Fear of Fireworks by Starfire -- CD and Instruction Manual
A practical, common-sense approach to cure your dog's fear of fireworks humanely and successfully.
No risk to you. Your 100% Satisfaction is Guaranteed with our 30 Day "No Questions" Money Back Guarantee. Hassle-free returns & exchanges.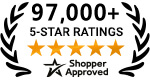 Copyright 1986, approx. 80 minute runtime

Most owners cure their dogs with this system -- often in less than a month -- even when other methods have failed. The noise your dog fears is explained according to scientific, behavior modification principles within the recording. Detailed instructions help you succeed at each level of retraining. Use the recording later to prevent noise shyness from resurfacing, and to also help prevent fear of this sound in other dogs.


Each segment is played at least 10 times
The first one is 10 minutes long and consists of special music developed to keep your dog calm, yet alert
The rest of the segments are 5 minutes long detailing specific aspects of the sound according to behavioral rules
During the second half of the system, music is phased out gradually after serving its' purpose
By the final segment, your dog will be listening to heavy fireworks as calmly as he listened to the first (music-only) segment


The systems are designed to cure dogs' fears of gunfire, thunder, or fireworks, and have been used successfully for more than two decades by more than a thousand trainers, veterinarians, behaviorists, and dog owners alike--in addition to favorable reviews, They have been reviewed favorably by veterinarians at conferences and endorsed by universities' animal behaviorists.

Each consists of a CD and instruction manual and includes free email support for the rest of the dog's life. The recordings consist of one 10-minute conditioning segment and 14 segments that are each five minutes long. Everything is controlled within the recordings. Dog owners and trainers only need to set the volume at a constant level and turn off the player at the end of each segment. The systems can also be used in an accelerated manner for prevention in dogs that do not yet fear loud noises.

The systems employ numerous behavior modification methods that were incorporated through considerable testing and development while helping owners cure more than 300 dogs before offering them to the public. These include systematic desensitization, counter-conditioning, extinguishing, prompting and fading, variable control, and others. The systems differ significantly from other products that cure noise-shyness:


The sounds are actual gunfire, thunder, or fireworks recorded in the field
Digital stereo was used for accurate sound reproduction
Volume (loudness) is only one of several variables manipulated within the recordings
Additional variables include nature or source of sound (e.g. from "rumbling" thunder to "crack-boomers"), duration of sound, and frequency of occurrence within a given time period. All are manipulated according to the rules of variable control
Specially composed music is incorporated as the unconditioned stimulus rather than air sprays employed by other systems. Great care went into selectively integrating the aversive stimulus with the music for maximum safety

The music is based upon research (Lozanov, G.) that demonstrated that music presented at 60 beats per produces an abundance of Alpha waves in the brain and enhances both calmness and receptivity to new information. Even if this desired effect were not to occur, the music is more consistent than air sprays, the fading schedule is more reliable, and the effect is more pleasant. The music also reflects research into the effects on animals of short, "harsh" sounds vs. smooth, elongated sounds, containing a dominant bass beat throughout to enhance the effects. Based on largo movements from symphonies, the music was composed, orchestrated, and performed at the developer's direction by a professional studio.

Country of Origin: Made in USA.



Starfire
094922307729
#A304CD