20 Reasons to Teach a Place Command
by Robin MacFarlane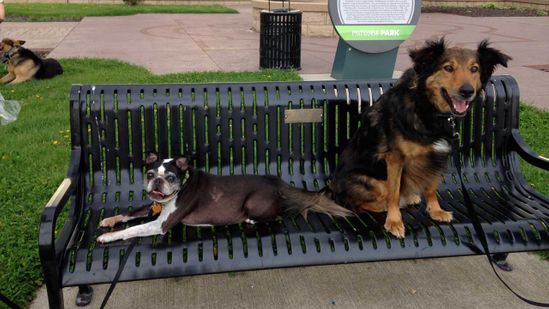 Teaching your dog a Place command is one of the most useful behaviors you can train.
It ranks right up there in importance, perhaps coming in second just behind having a solid recall. Whether you use the word "Place," "Table," or even something clever like "Park it," your mission is to teach the dog the definition is to "keep all four paws situated on this object, and don't step off until I give you permission." The dog should be allowed to change positions -- either standing, sitting or lying down -- but four paws need to stay on. Once your dog understands the meaning, you generalize it to various objects and then, well, then you can use it!
Teach your dog to go to his place when the doorbell rings.
Keep your dog on the Place while you watch a movie, and no more wagging tails getting in the way of your view of the screen.
Stop begging behavior by having your dog Place while you eat dinner.
Muddy paw prints aren't a problem if you let the feet get dry while your dog waits on a Place when coming in from outside.
Getting in the way or trying to lick the plates while you are trying to load the dishwasher isn't a problem if your dog is on his Place.
Don't want to drag a crate to the car each time you take the dog with you? Use a Place in the back seat to keep the dog settled in.
Photos of the dog are much easier to get if Fido understands how to stay on a small blanket or mat that is used as a Place command.
Dog won't quite stop bothering the cat? Tell him to go to his Place and teach him to stay there for an hour or so.
Cleaning the carpet is easier if your dog is not chasing the vacuum. Have you dog stay on a Place while you finish this chore.
Worried about your dogs ruining the family BBQ? Use an old blanket laid out in the grass and teach them to stay on the Place while you finish the grilling.
Teach your dog that your sweatshirt can be a Place also. Now you won't find yourself in a pinch if you forget to take along the dog bed or blanket.
A Place can be a stationary object as well. If you're heading to the park you can use a bench or picnic table to practice the command.
Can't get your dog to hold still on the scale in the veterinarian's office? Call the scale a Place and direct your dog to it.
Need to clean up your dog's obedience performance for a tighter front? Use a small platform directly in front of your toes and teach your dog to Place on it to create the muscle memory of perfect positioning.
Teach your dog to Place on a chair, then change the command to "Take a seat" to create a cleaver party trick.
Tired of Fido always flopping into that sloppy looking, tipped on one hip kind of sit? You can fix it by practicing the sit command on a small, elevated Place (like a footstool) that just barely accommodates the dog so he is forced to sit properly. This creates better muscle tone in the hind-quarters also.
Change the concept slightly (and use a different word for the command) by teaching the skill of only needing two paws on and you can build greater muscle development and coordination.
Tired of lifting your dog into the car? Teaching him to step onto a Place stepstool and then into the car.
If your dog does too much trying to escape when you brush him, have him remain on a Place while you do the grooming.
Fido doesn't want to take a bath? Tell him the tub is the new Place he needs to get into.
Have another interesting idea for using the Place command? Share it with us, we'd love to hear!
-- Robin
Robin MacFarlane
is a professional dog trainer and owner of Thatís My Dog in Dubuque, Iowa. Her best-selling dog training DVDs, JUST RIGHT and JUST RIGHT 2 have helped thousands of dog owners teach their dogs basic obedience and fix problem behaviors through a system of training that you can easily work into your daily routine.